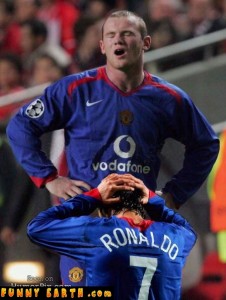 For the first time in my life I live within earshot of a major football team's stadium during the season. There is a big thing called Old Trafford football ground where a team called Newton Heath Lancashire and Yorkshire Railway Football Club, formerly of the Lancashire and Yorkshire Railway Newton Heath depot, play their ball games. There is also this thing called LCCCCCCCC where Bon Jovi play and so do some cricketers. Newton Heath LYR FC now go by the less traditional name of Manchester United, having outgrown Newton Heath over a hundred years ago. In another hundred years they will be Greater Manchester United, and in two hundred they will be North West United FC, etcetera etc &c

.
I walked to the shop (milk and eggs) to no more noise than the usual background fuzz of distant roads, children playing and larks singing. Minutes later, laden with dairy, the wind brought the roars and chants of 75,000 people, whose ability to pay up to
£
50 a ticket matched their enthusiasm for a self-important, over-indulged game. Personally I hate football; it's just two kids kicking a tennis ball against a wall. Having said that, over the next ninety minutes the open window of my mouldy flat let in the ecstatic cheers of frenzied fantatics. Not just once or twice, but eight times. I believe this is good. Football is fabulously fetishized past the point of perversion, but that sounds like fun.
Sometimes I try to get football, but it's so rare it becomes interesting. Essentially it's a nerd subject: statistics, unpronounceable names, pointless tables of dates and numbers. I'm all for nerd subjects, just not this one. The conversations about it are boring at best, and unfathomably spiteful and bilious at worst. Imagine the radio is on, but instead of BBC 5 Live, it's just normal pop (Manchester Key 103 or something). A song by, for example, Olly Murs is playing. I'm shouting to anyone who will listen
ahh, you know what his fucking problem is? Not enough going on in the lower register; too much up top.
Then a live performance by Lady Gaga comes on, during which she plays perfectly, except for one note being a semi-tone out:
stupid fucking wop, you're shit and you know you are, you're shit.
After which David Guetta comes on, who I hate due to some ancient and obscure rivalry based solely on close geographical proximity:
die of fucking AIDS and go back to where you came from
.
I calm down slightly when Cher Lloyd starts to sing:
you know what she needs to do? She needs a choppy electro-funk on the middle-eight, into a lilting reggae march for the chorus. Bring that down for the rap, and then a low mixed distorted guitar, and some retro tweekin' acid, during the chant-along outro. She pulls that off and she'll be top of the pops come the end of the season. Mind you, she needs to watch out for the new signing by Beyonce. She's got that new Swede in doing session drums on her latest, and he has good form. He helped take Basshunter to the top of the Swedish pops two seasons running.
Anyway you get the idea. Being a football fan requires a psychotic level of hate directed at people you don't know, both players of your own team and all others, and managers, referees and linesmen, too boot. Remember to throw in racial slurs and calls for unpleasant death. Then you need to feign a faultless knowledge of tactics and the uncanny ability to accurate predict the results of any slight tactical change. Back this all up with tedious trivia about youth squads, 'form' and whatever, and you are fully prepared to bore the pants off everyone, except your fellow footie folk.
All that aside, I am obviously guilty of the same boring rubbish. It's just my own obsessions don't allow me an instant topic of conversation with the surprising number of men who seem to enjoy football (or pretend to in preference to awkward silence). I'm obviously just jealous. Actually, I definitely used to be a bit. Back when Baddiel & Skinner's Fantasy Football League was on telly I wished I felt the excitement of football. The TV show was interesting, weird, likable, clever, and most importantly hilarious, self-aware, and down-to-earth. All attributes I have never attributed to the world of football before or since. Turns out it wasn't the football that made the show, they could have been talking about anything, and indeed they did on Baddiel & Skinner Unplanned which was just as good or better.
So, yeah..... whatever......
P.S. - I've just realised my last post was one in which I revealed I am a total wrestling statto nerd, which most people would consider a thousand times more pathetic, and that having just watched some Fantasy Football on YouTube I've remembered how much fun it all is. Oh Bollocks!
and because they've yet to get old: